Destinations with connections to Genova Airport (GOA)
Flights, Arrivals & Departures at Genova Airport
| Origin | Airline | Flight no. | Scheduled | Est./Actual | Status |
| --- | --- | --- | --- | --- | --- |
| Napoli (NAP) | Ryanair | FR4676 | 07:45 | | Scheduled |
| Rome (FCO) | ITA Airways | AZ1383 expand_more(7) | 10:30 | | Scheduled |
| Rome (FCO) | Aerolineas Argentinas | AR7196 | 10:30 | | Scheduled |
| Rome (FCO) | AirSERBIA | JU7268 | 10:30 | | Scheduled |
| Rome (FCO) | China Airlines | CI9273 | 10:30 | | Scheduled |
| Rome (FCO) | Delta Air Lines | DL6678 | 10:30 | | Scheduled |
| Rome (FCO) | Ethiopian Airlines | ET4012 | 10:30 | | Scheduled |
| Rome (FCO) | Etihad Airways | EY3024 | 10:30 | | Scheduled |
| Rome (FCO) | Korean Air | KE5615 | 10:30 | | Scheduled |
| Amsterdam (AMS) | KLM | KL1563 expand_more(4) | 13:30 | | Scheduled |
| Amsterdam (AMS) | Air France | AF3133 | 13:30 | | Scheduled |
| Amsterdam (AMS) | Delta Air Lines | DL9393 | 13:30 | | Scheduled |
| Amsterdam (AMS) | Delta Air Lines | DL9338 | 13:30 | | Scheduled |
| Amsterdam (AMS) | Kenya Airways | KQ1563 | 13:30 | | Scheduled |
| Rome (FCO) | ITA Airways | AZ1395 expand_more(16) | 14:35 | | Scheduled |
| Rome (FCO) | Air Europa | UX3132 | 14:35 | | Scheduled |
| Rome (FCO) | Air France | AF9777 | 14:35 | | Scheduled |
| Rome (FCO) | Air Malta | KM2519 | 14:35 | | Scheduled |
| Rome (FCO) | Bulgaria Air | FB1605 | 14:35 | | Scheduled |
| Rome (FCO) | China Airlines | CI9271 | 14:35 | | Scheduled |
| Rome (FCO) | Delta Air Lines | DL6628 | 14:35 | | Scheduled |
| Rome (FCO) | Ethiopian Airlines | ET4010 | 14:35 | | Scheduled |
| Rome (FCO) | Etihad Airways | EY2849 | 14:35 | | Scheduled |
| Rome (FCO) | Kenya Airways | KQ4344 | 14:35 | | Scheduled |
| Rome (FCO) | KLM | KL3414 | 14:35 | | Scheduled |
| Rome (FCO) | Kuwait Airways | KU6274 | 14:35 | | Scheduled |
| Rome (FCO) | Luxair | LG1293 | 14:35 | | Scheduled |
| Rome (FCO) | Royal Jordanian | RJ3566 | 14:35 | | Scheduled |
| Rome (FCO) | TAP Air Portugal | TP7162 | 14:35 | | Scheduled |
| Rome (FCO) | Tarom | RO9689 | 14:35 | | Scheduled |
| Rome (FCO) | Turkish Airlines | TK8603 | 14:35 | | Scheduled |
| Lamezia-terme (SUF) | Ryanair | FR9311 | 16:55 | | Scheduled |
| Munich (MUC) | Lufthansa | LH1892 expand_more(1) | 17:35 | | Cancelled |
| Munich (MUC) | United Airlines | UA9465 | 17:35 | | Cancelled |
| Rome (FCO) | ITA Airways | AZ1391 expand_more(13) | 18:30 | | Scheduled |
| Rome (FCO) | Aerolineas Argentinas | AR7193 | 18:30 | | Scheduled |
| Rome (FCO) | Air Baltic | BT5496 | 18:30 | | Scheduled |
| Rome (FCO) | Air Europa | UX3185 | 18:30 | | Scheduled |
| Rome (FCO) | Bulgaria Air | FB1607 | 18:30 | | Scheduled |
| Rome (FCO) | Etihad Airways | EY3025 | 18:30 | | Scheduled |
| Rome (FCO) | KLM | KL3465 | 18:30 | | Scheduled |
| Rome (FCO) | Kuwait Airways | KU6233 | 18:30 | | Scheduled |
| Rome (FCO) | Luxair | LG1295 | 18:30 | | Scheduled |
| Rome (FCO) | Royal Air Maroc | AT9183 | 18:30 | | Scheduled |
| Rome (FCO) | Royal Jordanian | RJ3574 | 18:30 | | Scheduled |
| Rome (FCO) | Saudia | SV6289 | 18:30 | | Scheduled |
| Rome (FCO) | TAP Air Portugal | TP7158 | 18:30 | | Scheduled |
| Rome (FCO) | Turkish Airlines | TK8602 | 18:30 | | Scheduled |
| Brussels (CRL) | Ryanair | FR4964 | 20:50 | | Scheduled |
| Rome (FCO) | ITA Airways | AZ1389 expand_more(13) | 22:45 | | Scheduled |
| Rome (FCO) | Aerolineas Argentinas | AR7254 | 22:45 | | Scheduled |
| Rome (FCO) | Air Europa | UX3136 | 22:45 | | Scheduled |
| Rome (FCO) | Air France | AF9744 | 22:45 | | Scheduled |
| Rome (FCO) | Air Malta | KM2521 | 22:45 | | Scheduled |
| Rome (FCO) | AirSERBIA | JU7394 | 22:45 | | Scheduled |
| Rome (FCO) | Etihad Airways | EY2848 | 22:45 | | Scheduled |
| Rome (FCO) | Kenya Airways | KQ4346 | 22:45 | | Scheduled |
| Rome (FCO) | KLM | KL3413 | 22:45 | | Scheduled |
| Rome (FCO) | Korean Air | KE5617 | 22:45 | | Scheduled |
| Rome (FCO) | Luxair | LG1327 | 22:45 | | Scheduled |
| Rome (FCO) | Royal Air Maroc | AT9182 | 22:45 | | Scheduled |
| Rome (FCO) | TAP Air Portugal | TP7154 | 22:45 | | Scheduled |
| Rome (FCO) | Turkish Airlines | TK9052 | 22:45 | | Scheduled |
| Destination | Airline | Flight no. | Scheduled | Est./Actual | Status |
| --- | --- | --- | --- | --- | --- |
| Rome (FCO) | ITA Airways | AZ1380 expand_more(18) | 06:20 | | Scheduled |
| Rome (FCO) | Aerolineas Argentinas | AR7197 | 06:20 | | Scheduled |
| Rome (FCO) | Air Europa | UX3133 | 06:20 | | Scheduled |
| Rome (FCO) | Air France | AF9772 | 06:20 | | Scheduled |
| Rome (FCO) | Air Malta | KM2518 | 06:20 | | Scheduled |
| Rome (FCO) | AirSERBIA | JU7269 | 06:20 | | Scheduled |
| Rome (FCO) | Bulgaria Air | FB1608 | 06:20 | | Scheduled |
| Rome (FCO) | China Airlines | CI9258 | 06:20 | | Scheduled |
| Rome (FCO) | Delta Air Lines | DL6627 | 06:20 | | Scheduled |
| Rome (FCO) | Etihad Airways | EY2850 | 06:20 | | Scheduled |
| Rome (FCO) | Kenya Airways | KQ4345 | 06:20 | | Scheduled |
| Rome (FCO) | KLM | KL3411 | 06:20 | | Scheduled |
| Rome (FCO) | Kuwait Airways | KU6273 | 06:20 | | Scheduled |
| Rome (FCO) | Luxair | LG1292 | 06:20 | | Scheduled |
| Rome (FCO) | Royal Air Maroc | AT9185 | 06:20 | | Scheduled |
| Rome (FCO) | Royal Jordanian | RJ3570 | 06:20 | | Scheduled |
| Rome (FCO) | TAP Air Portugal | TP7153 | 06:20 | | Scheduled |
| Rome (FCO) | Tarom | RO9688 | 06:20 | | Scheduled |
| Rome (FCO) | Turkish Airlines | TK8204 | 06:20 | | Scheduled |
| Naples (NAP) | Ryanair | FR4677 | 08:15 | | Scheduled |
| Rome (FCO) | ITA Airways | AZ1384 expand_more(13) | 11:20 | | Scheduled |
| Rome (FCO) | Aerolineas Argentinas | AR7261 | 11:20 | | Scheduled |
| Rome (FCO) | Air Baltic | BT5486 | 11:20 | | Scheduled |
| Rome (FCO) | Air Europa | UX3184 | 11:20 | | Scheduled |
| Rome (FCO) | Air France | AF9788 | 11:20 | | Scheduled |
| Rome (FCO) | AirSERBIA | JU7152 | 11:20 | | Scheduled |
| Rome (FCO) | Etihad Airways | EY3026 | 11:20 | | Scheduled |
| Rome (FCO) | Kuwait Airways | KU6232 | 11:20 | | Scheduled |
| Rome (FCO) | Luxair | LG1294 | 11:20 | | Scheduled |
| Rome (FCO) | Royal Air Maroc | AT9186 | 11:20 | | Scheduled |
| Rome (FCO) | Royal Jordanian | RJ3567 | 11:20 | | Scheduled |
| Rome (FCO) | Saudia | SV6290 | 11:20 | | Scheduled |
| Rome (FCO) | TAP Air Portugal | TP7159 | 11:20 | | Scheduled |
| Rome (FCO) | Turkish Airlines | TK8205 | 11:20 | | Scheduled |
| Amsterdam (AMS) | KLM | KL1564 expand_more(3) | 14:00 | | Scheduled |
| Amsterdam (AMS) | Air France | AF8356 | 14:00 | | Scheduled |
| Amsterdam (AMS) | Delta Air Lines | DL9548 | 14:00 | | Scheduled |
| Amsterdam (AMS) | Kenya Airways | KQ1564 | 14:00 | | Scheduled |
| Rome (FCO) | ITA Airways | AZ1386 expand_more(12) | 15:25 | | Scheduled |
| Rome (FCO) | Aerolineas Argentinas | AR7255 | 15:25 | | Scheduled |
| Rome (FCO) | Air Europa | UX3137 | 15:25 | | Scheduled |
| Rome (FCO) | Air France | AF9773 | 15:25 | | Scheduled |
| Rome (FCO) | Ethiopian Airlines | ET4026 | 15:25 | | Scheduled |
| Rome (FCO) | Etihad Airways | EY2851 | 15:25 | | Scheduled |
| Rome (FCO) | Kenya Airways | KQ4347 | 15:25 | | Scheduled |
| Rome (FCO) | KLM | KL3412 | 15:25 | | Scheduled |
| Rome (FCO) | Korean Air | KE5616 | 15:25 | | Scheduled |
| Rome (FCO) | Luxair | LG1296 | 15:25 | | Scheduled |
| Rome (FCO) | Royal Air Maroc | AT9184 | 15:25 | | Scheduled |
| Rome (FCO) | TAP Air Portugal | TP7161 | 15:25 | | Scheduled |
| Rome (FCO) | Turkish Airlines | TK8264 | 15:25 | | Scheduled |
| Lamezia Terme (SUF) | Ryanair | FR9312 | 17:25 | | Scheduled |
| Munich (MUC) | Lufthansa | LH1893 expand_more(1) | 18:15 | | Cancelled |
| Munich (MUC) | United Airlines | UA9529 | 18:15 | | Scheduled |
| Rome (FCO) | ITA Airways | AZ1392 expand_more(4) | 19:20 | | Scheduled |
| Rome (FCO) | Air Malta | KM2520 | 19:20 | | Scheduled |
| Rome (FCO) | Ethiopian Airlines | ET4011 | 19:20 | | Scheduled |
| Rome (FCO) | Etihad Airways | EY3027 | 19:20 | | Scheduled |
| Rome (FCO) | Korean Air | KE5618 | 19:20 | | Scheduled |
| Brussels (CRL) | Ryanair | FR4965 | 21:20 | | Scheduled |
Flying To and From Genova Airport
This page provides information about the destinations that can be reached via Genova Airport.
Was your flight delayed or cancelled?
You may be eligible to receive up to 600 EUR compensation per person in your party..
Claim Now!
Beat the Queues
Don't stand sweating for 45 mins waiting for Security. Get a fast track and get through in 5 mins or less.
Book now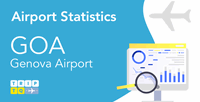 Genova Airport Sees Double-Digit Decline of 10.85% in Passenger Traffic in Q3 2023, Still Below Pre-Pandemic Levels