Destinations with connections to Genova Airport (GOA)
Flights, Arrivals & Departures at Genova Airport
Origin
Airline
Flight no.
Scheduled
Est./Actual
Status
Rome (FCO)
ITA Airways
AZ1383 expand_more(6)
10:25
Scheduled
Rome (FCO)
Aerolineas Argentinas
AR7196
10:25
Scheduled
Rome (FCO)
AirSERBIA
JU7268
10:25
Scheduled
Rome (FCO)
China Airlines
CI9273
10:25
Scheduled
Rome (FCO)
Delta Air Lines
DL6678
10:25
Scheduled
Rome (FCO)
Ethiopian Airlines
ET4012
10:25
Scheduled
Rome (FCO)
Etihad Airways
EY3024
10:25
Scheduled
NIce (NCE)
Toyo Aviation
TOY556
10:28
Scheduled
Napoli (NAP)
Ryanair
FR4676
12:00
Scheduled
Palermo (PMO)
Ryanair
FR2909
12:10
Scheduled
Munich (MUC)
Air Dolomiti
EN8294 expand_more(1)
12:50
Scheduled
Munich (MUC)
Lufthansa
LH6920
12:50
Scheduled
Barcelona (BCN)
Vueling
VY6010 expand_more(3)
13:20
Scheduled
Barcelona (BCN)
Iberia
IB5457
13:20
Scheduled
Barcelona (BCN)
LATAM Airlines
LA5771
13:20
Scheduled
Barcelona (BCN)
Qatar Airways
QR3777
13:20
Scheduled
Amsterdam (AMS)
KLM
KL1565 expand_more(1)
13:25
Scheduled
Amsterdam (AMS)
Delta Air Lines
DL9544
13:25
Scheduled
Napoli (NAP)
Volotea
V71732
14:00
Scheduled
Rome (FCO)
ITA Airways
AZ1395 expand_more(13)
14:30
Scheduled
Rome (FCO)
Aerolineas Argentinas
AR7193
14:30
Scheduled
Rome (FCO)
Air Europa
UX3132
14:30
Scheduled
Rome (FCO)
Air France
AF9777
14:30
Scheduled
Rome (FCO)
Air Malta
KM2519
14:30
Scheduled
Rome (FCO)
Bulgaria Air
FB1605
14:30
Scheduled
Rome (FCO)
China Airlines
CI9271
14:30
Scheduled
Rome (FCO)
Delta Air Lines
DL6628
14:30
Scheduled
Rome (FCO)
Ethiopian Airlines
ET4010
14:30
Scheduled
Rome (FCO)
Etihad Airways
EY2849
14:30
Scheduled
Rome (FCO)
Kenya Airways
KQ4344
14:30
Scheduled
Rome (FCO)
KLM
KL3414
14:30
Scheduled
Rome (FCO)
TAP Air Portugal
TP7162
14:30
Scheduled
Rome (FCO)
Tarom
RO9689
14:30
Scheduled
London (STN)
Ryanair
FR972
16:05
Scheduled
Rome (FCO)
ITA Airways
AZ1391 expand_more(12)
18:35
Scheduled
Rome (FCO)
Air Baltic
BT5496
18:35
Scheduled
Rome (FCO)
Air Europa
UX3185
18:35
Scheduled
Rome (FCO)
Air France
AF9778
18:35
Scheduled
Rome (FCO)
Air Malta
KM2583
18:35
Scheduled
Rome (FCO)
Bulgaria Air
FB1607
18:35
Scheduled
Rome (FCO)
Etihad Airways
EY3025
18:35
Scheduled
Rome (FCO)
KLM
KL3465
18:35
Scheduled
Rome (FCO)
Kuwait Airways
KU6233
18:35
Scheduled
Rome (FCO)
Royal Air Maroc
AT9183
18:35
Scheduled
Rome (FCO)
Royal Jordanian
RJ3574
18:35
Scheduled
Rome (FCO)
Saudia
SV6712
18:35
Scheduled
Rome (FCO)
TAP Air Portugal
TP7158
18:35
Scheduled
Tirana (TIA)
Albawings
2B241
19:10
Scheduled
Bari (BRI)
Ryanair
FR4039
21:15
Scheduled
Tirana (TIA)
Wizz Air
W46637
21:15
Scheduled
Catania (CTA)
Ryanair
FR5026
21:30
Scheduled
Rome (FCO)
ITA Airways
AZ1389 expand_more(12)
22:45
Scheduled
Rome (FCO)
Aerolineas Argentinas
AR7254
22:45
Scheduled
Rome (FCO)
Air Europa
UX3136
22:45
Scheduled
Rome (FCO)
Air France
AF9744
22:45
Scheduled
Rome (FCO)
Air Malta
KM2521
22:45
Scheduled
Rome (FCO)
AirSERBIA
JU7394
22:45
Scheduled
Rome (FCO)
Etihad Airways
EY2848
22:45
Scheduled
Rome (FCO)
Kenya Airways
KQ4346
22:45
Scheduled
Rome (FCO)
KLM
KL3413
22:45
Scheduled
Rome (FCO)
Kuwait Airways
KU6287
22:45
Scheduled
Rome (FCO)
Luxair
LG1295
22:45
Scheduled
Rome (FCO)
Royal Air Maroc
AT9182
22:45
Scheduled
Rome (FCO)
TAP Air Portugal
TP7154
22:45
Scheduled
Destination
Airline
Flight no.
Scheduled
Est./Actual
Status
Rome (FCO)
ITA Airways
AZ1380 expand_more(15)
06:40
Scheduled
Rome (FCO)
Aerolineas Argentinas
AR7197
06:40
Scheduled
Rome (FCO)
Air Europa
UX3133
06:40
Scheduled
Rome (FCO)
Air France
AF9772
06:40
Scheduled
Rome (FCO)
Air Malta
KM2518
06:40
Scheduled
Rome (FCO)
AirSERBIA
JU7269
06:40
Scheduled
Rome (FCO)
Bulgaria Air
FB1608
06:40
Scheduled
Rome (FCO)
China Airlines
CI9258
06:40
Scheduled
Rome (FCO)
Delta Air Lines
DL6627
06:40
Scheduled
Rome (FCO)
Etihad Airways
EY2850
06:40
Scheduled
Rome (FCO)
Kenya Airways
KQ4345
06:40
Scheduled
Rome (FCO)
KLM
KL3411
06:40
Scheduled
Rome (FCO)
Kuwait Airways
KU6296
06:40
Scheduled
Rome (FCO)
Royal Air Maroc
AT9185
06:40
Scheduled
Rome (FCO)
TAP Air Portugal
TP7153
06:40
Scheduled
Rome (FCO)
Tarom
RO9688
06:40
Scheduled
Rome (FCO)
ITA Airways
AZ1384 expand_more(11)
11:25
Scheduled
Rome (FCO)
Aerolineas Argentinas
AR7261
11:25
Scheduled
Rome (FCO)
Air Baltic
BT5486
11:25
Scheduled
Rome (FCO)
Air Europa
UX3184
11:25
Scheduled
Rome (FCO)
Air Malta
KM2582
11:25
Scheduled
Rome (FCO)
Etihad Airways
EY3026
11:25
Scheduled
Rome (FCO)
KLM
KL3436
11:25
Scheduled
Rome (FCO)
Kuwait Airways
KU6232
11:25
Scheduled
Rome (FCO)
Royal Air Maroc
AT9186
11:25
Scheduled
Rome (FCO)
Royal Jordanian
RJ3567
11:25
Scheduled
Rome (FCO)
Saudia
SV6713
11:25
Scheduled
Rome (FCO)
TAP Air Portugal
TP7159
11:25
Scheduled
Naples (NAP)
Ryanair
FR4677
12:25
Scheduled
Palermo (PMO)
Ryanair
FR2910
12:40
Scheduled
Munich (MUC)
Air Dolomiti
EN8295 expand_more(1)
13:25
Scheduled
Munich (MUC)
Lufthansa
LH6921
13:25
Scheduled
Amsterdam (AMS)
KLM
KL1566 expand_more(2)
13:55
Scheduled
Amsterdam (AMS)
Delta Air Lines
DL9450
13:55
Scheduled
Amsterdam (AMS)
Kenya Airways
KQ1566
13:55
Scheduled
Barcelona (BCN)
Vueling
VY6011 expand_more(1)
14:05
Scheduled
Barcelona (BCN)
Iberia
IB5458
14:05
Scheduled
Naples (NAP)
Volotea
V71733
14:40
Scheduled
Rome (FCO)
ITA Airways
AZ1386 expand_more(10)
15:20
Scheduled
Rome (FCO)
Aerolineas Argentinas
AR7255
15:20
Scheduled
Rome (FCO)
Air Europa
UX3137
15:20
Scheduled
Rome (FCO)
Air France
AF9773
15:20
Scheduled
Rome (FCO)
Ethiopian Airlines
ET4026
15:20
Scheduled
Rome (FCO)
Etihad Airways
EY2851
15:20
Scheduled
Rome (FCO)
Kenya Airways
KQ4347
15:20
Scheduled
Rome (FCO)
KLM
KL3412
15:20
Scheduled
Rome (FCO)
Luxair
LG1292
15:20
Scheduled
Rome (FCO)
Royal Air Maroc
AT9184
15:20
Scheduled
Rome (FCO)
TAP Air Portugal
TP7161
15:20
Scheduled
London (STN)
Ryanair
FR973
16:30
Scheduled
Rome (FCO)
ITA Airways
AZ1392 expand_more(3)
19:25
Scheduled
Rome (FCO)
Air Malta
KM2520
19:25
Scheduled
Rome (FCO)
Ethiopian Airlines
ET4011
19:25
Scheduled
Rome (FCO)
Etihad Airways
EY3027
19:25
Scheduled
Tirana (TIA)
Albawings
2B240
20:00
Scheduled
Bari (BRI)
Ryanair
FR4040
21:45
Scheduled
Tirana (TIA)
Wizz Air
W46638
21:50
Scheduled
Catania (CTA)
Ryanair
FR5027
22:00
Scheduled
Flying To and From Genova Airport
This page provides information about the destinations that can be reached via Genova Airport.
Was your flight delayed or cancelled?
You may be eligible to receive up to 600 EUR compensation per person in your party..
Claim Now!
Beat the Queues
Don't stand sweating for 45 mins waiting for Security. Get a fast track and get through in 5 mins or less.
Book now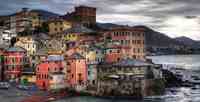 Genova tourist attractions are plentiful, since the city is one of the oldest cities in Italy...