Genova Airport Arrivals (GOA)
Not all flights may be showing. If not available use search above to find your flight by airline, airport or flight number.
Origin
Airline
Flight no.
Scheduled
Est./Actual
Status
Barcelona (BCN)
Vueling
VY6010 expand_more(3)
01:20
Scheduled
Barcelona (BCN)
Iberia
IB5457
01:20
Scheduled
Barcelona (BCN)
LATAM Airlines
LA5771
01:20
Scheduled
Barcelona (BCN)
Qatar Airways
QR3777
01:20
Scheduled
Amsterdam (AMS)
KLM
KL1565 expand_more(1)
01:25
Scheduled
Amsterdam (AMS)
Delta Air Lines
DL9544
01:25
Scheduled
Napoli (NAP)
Volotea
V71732
02:00
Scheduled
Rome (FCO)
ITA Airways
AZ1395 expand_more(13)
02:30
Scheduled
Rome (FCO)
Aerolineas Argentinas
AR7193
02:30
Scheduled
Rome (FCO)
Air Europa
UX3132
02:30
Scheduled
Rome (FCO)
Air France
AF9777
02:30
Scheduled
Rome (FCO)
Air Malta
KM2519
02:30
Scheduled
Rome (FCO)
Bulgaria Air
FB1605
02:30
Scheduled
Rome (FCO)
China Airlines
CI9271
02:30
Scheduled
Rome (FCO)
Delta Air Lines
DL6628
02:30
Scheduled
Rome (FCO)
Ethiopian Airlines
ET4010
02:30
Scheduled
Rome (FCO)
Etihad Airways
EY2849
02:30
Scheduled
Rome (FCO)
Kenya Airways
KQ4344
02:30
Scheduled
Rome (FCO)
KLM
KL3414
02:30
Scheduled
Rome (FCO)
TAP Air Portugal
TP7162
02:30
Scheduled
Rome (FCO)
Tarom
RO9689
02:30
Scheduled
London (STN)
Ryanair
FR972
04:05
Scheduled
No flight arrivals were found at Genova Airport.
Flight Arrivals at Genova Airport
Passengers arriving at Genoa Airport will find every modern amenity at their disposal. The airport serves the Liguria region in Italy and is situated just 7.2 km from Genoa city center.
Genova Airport Arrivals will find several car hire companies like Avis, Maggiore, Hertz, Europcar and Travelcar in the arrivals hall of the terminal building. There is also has a tourist information stand, open from Mondays to Sundays from 9.00am to 1.00pm and from 1.30pm to 5.30pm (tel +39 010 601 5247), where passengers can obtain information on the Liguria region or get assistance with booking accommodation in the hotels, bed and breakfast places or guesthouse in Genoa and surrounding towns and seaside villages.
Arrivals at Genoa Airport have the option of onward travel by taxi, airport bus service or by hire car. A couple of train stations in Genoa city center also offer onward travel via an excellent rail network.
Genoa Airport arrivals can board the shuttle bus service, the VOLABUS, which operates between the airport and Brignole and Principe train stations in the city center. The trip takes ca. 30 minutes and the shuttle service is available 7 days a week all year round. Bus tickets can be purchased from the driver on-board the bus or from the automated ticket machines located in the terminal building and also from machines in city center locations.
Shuttle service I24, a brand new service, runs between the terminal building and the Sistri Ponente district of Genoa, stopping also at the railway stations and some city center destinations.
Arrivals at Genova Airport will find taxi services just outside the arrivals hall and the terminal building. A white fleet of taxis with official permits to operate in the airport compound are waiting to take passengers to city center locations and to the hotels along the Mediterranean coast.
Easily accessible car parking facilities are located within a short walking distance of the terminal building. Parking is free of charge for the first 30 minutes in the short-term car park (P3), thereafter drivers will be charged €1.00 for the first hour, following which the next 60 minutes or part thereof will cost €2.50. Long-term parking can be pre-booked via the official airport website. A central car parking area offers space for 700 vehicles, while the short term car park provides space for 70 vehicles. Genova Airport's long-term parking facility provides space for 202 vehicles.
A Banca Carige branch is located in the terminal building, where Genoa Airport arrivals can obtain cash over the counter or by using the ATM's. A currency exchange desk is also open from Mondays to Fridays from 8.00 am to 6.00 pm, and on Saturdays from 8.00 am to 1.20 pm.
4 and 5-star overnight accommodation and conference facilities are available through a number of branded and comfortable hotels like the Sheraton, the historic Palazzo Cicala and Grand Hotel Arenzano, Marina Place as well as Hotel Regina Elena, all are within a short drive of Genova Airport. Along the Mediterranean coast, Genova Airport arrivals will find a large number of comfortable guesthouses and budget bed and breakfast places, too.
Arrivals with priority passes or cardholders of having an Alitalia Gold, Platinum Freccia Alata Card or Lufthansa's Senator Card can relax in the VIP lounge. Arrivals without such cards may still use the VIP Lounge and its services, but are obliged to purchase a voucher at the Ticketing Desk. A VIP Lounge voucher costs €20.00 for a visitor with boarding pass and a non-travelling visitor will be asked to pay €10.00.
Genova Airport's VIP Lounge offers many benefits such as free internet connections via WiFi, a selection of Italian and foreign language newspapers and refreshments from a snack bar as well as comfortable rest areas. There is even a telecheck-in service for passengers who are travelling with hand luggage but without any suitcases.
Throughout the terminal Genova Airport Arrivals will discover dining and refreshment services. For a snack of quick lunch there is a bar and pizzeria, while a self-service restaurant caters for larger appetite. A quick cup of coffee prior to taking an onward journey via shuttle bus or taxi can be had enjoyed at the Mocha Bar, where a choice of real Italian coffee is being served, including espresso. Thirsty Genoa Airport arrivals will find a wine bar in the arrivals hall, which serves Italian and international wines in the evening.
Genoa is beautifully situated at the Gulf of Paradiso at the Mediterranean Sea. Nearby are the famous resorts of Alassio and Portofino, San Remo and the rolling hills and fields of the lovely Basso Piemonte area. There is much to do in the Liguria region, during summer water sports like scuba diving and swimming are popular, while in spring and autumn trekking and mountain biking are popular leisure time pursuits.
Arrivals at Genoa Airport have a choice of onward flight destinations and the airport is served by major airlines covering all of Europe and the rest of the world. From scheduled flights to budget airlines Genova Airport will take care of onward travel requirements via some of the world's best known air carriers like Air France, Air Italy, Alitalia, British Airways, Lufthansa, Ryanair, Turkish Airlines or Vueling.
For more information about arrivals at Genoa Airport, please visit the official airport website at www.airport.genova.it
Was your flight delayed or cancelled?
You may be eligible to receive up to 600 EUR compensation per person in your party..
Claim Now!
Beat the Queues
Don't stand sweating for 45 mins waiting for Security. Get a fast track and get through in 5 mins or less.
Book now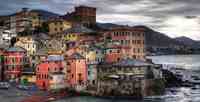 Genova tourist attractions are plentiful, since the city is one of the oldest cities in Italy...