Genova Airport Departures (GOA)
Not all flights may be showing. If not available use search above to find your flight by airline, airport or flight number.
Destination
Airline
Flight no.
Scheduled
Est./Actual
Status
Rome (FCO)
ITA Airways
AZ1384 expand_more(11)
11:25
Scheduled
Rome (FCO)
Aerolineas Argentinas
AR7261
11:25
Scheduled
Rome (FCO)
Air Baltic
BT5486
11:25
Scheduled
Rome (FCO)
Air Europa
UX3184
11:25
Scheduled
Rome (FCO)
Air Malta
KM2582
11:25
Scheduled
Rome (FCO)
Etihad Airways
EY3026
11:25
Scheduled
Rome (FCO)
KLM
KL3436
11:25
Scheduled
Rome (FCO)
Kuwait Airways
KU6232
11:25
Scheduled
Rome (FCO)
Royal Air Maroc
AT9186
11:25
Scheduled
Rome (FCO)
Royal Jordanian
RJ3567
11:25
Scheduled
Rome (FCO)
Saudia
SV6713
11:25
Scheduled
Rome (FCO)
TAP Air Portugal
TP7159
11:25
Scheduled
Naples (NAP)
Ryanair
FR4677
12:25
Scheduled
Palermo (PMO)
Ryanair
FR2910
12:40
Scheduled
No flight departures were found at Genova Airport.
Flight Departures at Genova Airport
Passengers departing from Genova Airport have a choice of domestic and international destinations using famous air carriers like Air France, Air Italy, Alitalia, British Airways, Lufthansa, Ryanair, Turkish Airlines or Vueling.
The airport serves as a transportation hub for Italy and the Liguria region and is situated just 7.2 km from Genova's city center. From Genova Airport passengers can fly to Bari, Cagliari, Rome, Catania or Napoli in Italy or further afield to Istanbul, Barcelona, Madrid, London, Paris or glamorous Monaco. The airport operates a summer and a winter time table. It is best to check flight times 24 hours prior to departure and the official airport website provides accurate flight information on all flights. The official IATA code for the airport is GOA.
Genova Airport Departures can drop their hire cars off at several car hire stations like Avis, Maggiore, Hertz, Europcar, Sixt, Easycar Italia and Travelcar for example, all of which are located in the arrivals hall of the terminal building.
Getting to the airport is easy and departures at Genoa Airport have the choice of reaching the airport by taxi, airport shuttle bus or by car. Two train stations located in Genoa city center also connect their airport with the rest of Italy via an excellent rail network.
Genoa Airport departures can board the shuttle bus service, the VOLABUS, which operates between Brignole and Principe train stations in the city center and the airport at regular intervals. The bus trip takes about 30 minutes and the bus service is available 7 days a week throughout the year. Tickets for the shuttle bus can be purchased on-board the bus or from automated ticket machines located in city center locations and at the train stations.
Shuttle service I24, which is a brand new service, operates between the Sistri Ponente district of Genoa and the airport, stopping also at the two railway stations and various stops in the city center.
Genova Airport is also served by several local taxi companies who drop departing passengers off just outside the terminal building at the departure area.
The airport has easily accessible car parking facilities within a short walking distance of the departures hall. Parking is free of charge for the first 30 minutes in the short-term car park (P3), thereafter drivers must pay €1.00 for the first hour, and the next 60 minutes or part thereof will be charged at €2.50. Long-term parking spaces can be booked in advance by contacting the parking services via the airport's website. The central car parking area has space for 700 vehicles, while the short term car parking area provides space for 70 vehicles. The long-term car park has space for 202 vehicles.
A bank can be found within the terminal building, where Genoa Airport departures can withdraw cash over the counter or by using the ATM's. There is also a currency exchange desk in the same area, which serves customers from Mondays to Fridays, opening from 8.00 am to 6.00 pm, and on Saturdays from 8.00 am to 1.20 pm.
Departures at Genova Airport, who have a priority pass or have an Alitalia Gold, Platinum Freccia Alata or Lufthansa's Senator Card can enjoy the facilities of the VIP lounge. Genoa Airport departures without such priority passes or VIP cards may still use the VIP Lounge services, but must purchase a VIP voucher at the Ticketing Desk. The voucher costs €20.00 for departures with a boarding pass and non-travelling visitors will be asked to pay €10.00 per person.
Genoa Airport's VIP Lounge offers services such as free internet connections via WiFi, a choice of Italian and foreign language newspapers and food and drink from a snack bar. There is also a telecheck-in service for departures at Genoa Airport who are travelling just one piece of hand luggage.
Departures at Genova Airport have a great choice of dining and refreshment facilities at hand. For a quick snack prior to getting on the plane there is a bar and pizzeria. To while away the time prior to checking in, passengers can avail themselves of the self-service restaurant which serves hot food and drink. Passengers who have along night-time flight ahead of them can still their thirst at a wine bar in the arrivals hall, which serves Italian and international wines in the evening.
For further information about departures at Genoa Airport, please visit the official airport website at www.airport.genova.it
Was your flight delayed or cancelled?
You may be eligible to receive up to 600 EUR compensation per person in your party..
Claim Now!
Beat the Queues
Don't stand sweating for 45 mins waiting for Security. Get a fast track and get through in 5 mins or less.
Book now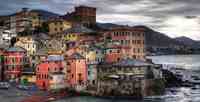 Genova tourist attractions are plentiful, since the city is one of the oldest cities in Italy...